Firmware version 0.2.1 has been released, DIY kits available again
The day before yesterday the Firmware Version 0.2.1 was released. The most important change for users is the possibility to configure bt-trx via the WLAN web interface. In version 0.2.1, the following settings can be configured via the web interface:
ADC and DAC gain (volume of the audio signals from and to the transceiver)
4-digit PIN code for Legacy Bluetooth Pairing
Delete all Bluetooth pairings
PTT Hang Time (Hold the PTT signal after releasing the PTT button to compensate for the delay of the cars' hands-free system)
In addition, the two headset models "Fontastic NAT+" and "Jabra Evolve 65" have been reported to be compatible to bt-trx.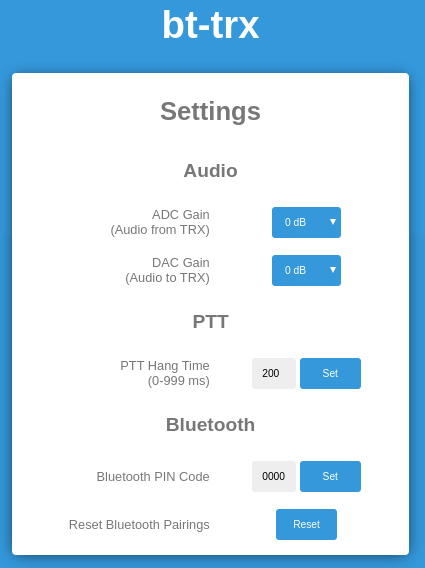 Konfigurations-Webinterface der Version 0.2.1
The documentation for this version in the bt-trx manual will be added in the coming days.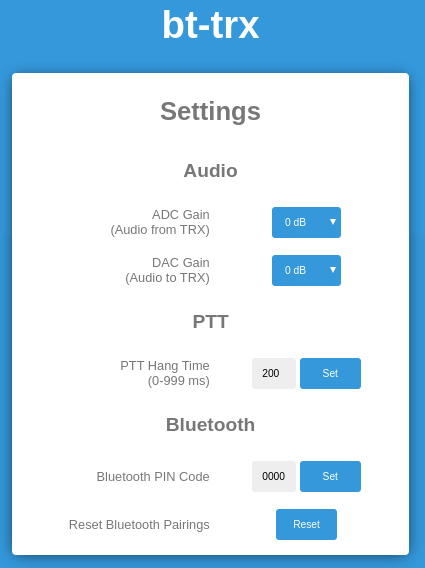 Configuration webinterface of version 0.2.1
DIY kits available again
Furthermore, the DIY kits for the bt-trx v4.1 are available in the thinkstack Shop again.